In order to have a stable movement, you must begin with a strong core. That is why the shoes that a weight lifter selects will be very influential on his or her overall capabilities. If the athlete's shoes are not right for them, then they likely will not be able to get the type of support that they need.
You might think that not having a lot of support isn't a big deal, but it can make all the difference in the world. Not only will the wrong shoe likely result in you not being able to power lift as much as you'd like, but you also run the risk of getting injured during your training.
There are a lot of different powerlifting shoes out there to choose from, so the amount of selection can be daunting. To help you make the choice that is best for you, here are some things to keep in mind.
Comfort of the shoe
Make no mistake about it; the first concern that you should have should be about overall comfort. After all, if you have a powerlifting shoe that isn't comfortable, you won't want to wear them very often. And when you do, your mind will be more on trying to be comfortable than it will be trying to get the lift of your life in.
What makes a comfortable shoe? It should start by having plenty of support in your heel. Don't go for something that is too flat, but you also want to avoid the large arches that are intended more for runners. You should also have plenty of support in the heels, as deadlifts, squats, and power cleans will all require movement that might result in blistering if you don't have the right fit.
While other factors will weigh heavily on the choice you make for your next powerlifting shoe, just keep in mind that comfort should rank highly on the list.
Overall Support
Right up there with comfort should be shoe support. As mentioned above, the support of a powerlifting shoe is going to be completely different than that of your normal running shoe or casual athletic shoe. Instead, there will be a low level of support, which makes it easier for squatting and deadlifting.
The Heel: Height and Stability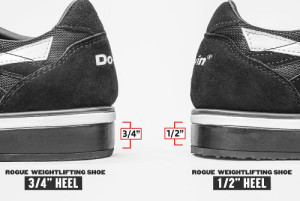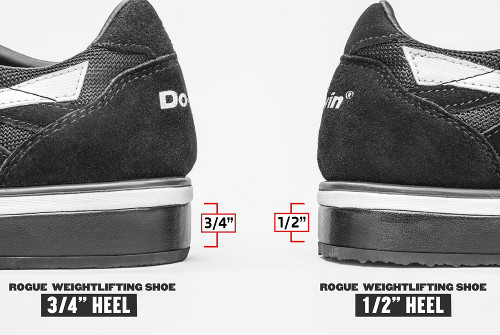 Be sure to avoid getting shoes that have any sort of bubble or gel padding int he back. While many people assume that this is going to add support, the truth is that you run the risk of blowing out the gel portion if you are lifting serious amounts of weight during your lifts.
There is no telling what kind of damage you might sustain if this were to happen, so avoid shoes that might result in something like this occurring. The Typical heel height for most lifting shoes ranges from 1/2 to 3/4 inches.
Straps Quality
What happened to the good ol' days where you could wear velcro straps on your shoes, without being made fun of? The good news is that you can bring this fashion statement back with your powerlifting shoes, as straps will come in very handy.
Having shoes with laces will be helpful, of course. In fact, those laces will make for a good foundation of support for when you first tie your shoes. However, adding a bit of support with velcro straps will make for even better lifting conditions. If you have to continually tighten your shoes or adjust the laces, you'll love a set with velcro straps.
Ventilation: Does It Breath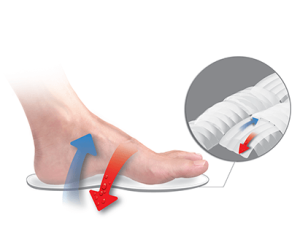 When you are looking in the mirror at your shoes, the last thing you might be thinking about is how well your feet breathe. However, when you go to take your shoes out of your gym bag and you are overwhelmed with a odorous stench, you'll be happy you took the time to consider ventilation.
By making sure there is enough breathing room in your shoes, you'll be able to stay cool in the feet. Not only will this help you to keep your shoes smelling better, but it'll also help you avoid the concern of slipping around due to sweaty socks.
Design and Color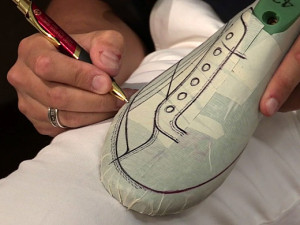 After you've considered all of the factors for safety and support, then it's time that you look at your style and color. That's only fair, when you consider the amount that you'll be wearing these shoes while in the gym.
It might be hard to find the perfect color, as you never know what color you'll be wearing to the gym. However, you may want to invest in a singlet or a deadlift suit (which we touch on over in our other sections), which you can then match the color of your shoes to. You want to look your best if that's going to have a big impact on your ability to lift a lot of weight during a competition, so color should certainly be a factor.
Your Personal Taste And Liking
Your shoe is a chance to personally express who you are and the things that you like. And when you are on the competition floor lifting, it's your chance to show that you've put in the hard work and effort to get where you are. Therefore, consider your personal preference and taste when selecting your powerlifting shoe, as this may have a big impact on your emotional power while training.
IPF Rules:
Don't forget that if you plan to compete in an IPF Powerlifting Competition, you'll need to play by the rules of the committee. In some competitions, there may be rules in terms of what type of shoes you can wear. To make sure you don't get to the day of a competition with a shoe you can't wear, do the due diligence to check into the rules before you begin training.
Your shoes are going to be a big part of your overall training while powerlifting. To make sure that you have shoes that are best for you, consider all of the factors mentioned here when wondering what to look for in the perfect powerlifting shoes.