When your gym is filled with only one type of equipment, it's only fair that you give that company a chance when it comes to shoes as well. Even if that company may not be as big of a name as some others in the industry.
This logic is what made us decide to try out the Rogue Do-Win weightlifting shoes. After all, it's hard to find anything but Rogue when you look through our at-home gym that is full of bumpers, bars, and more.
The great news is that we love Rogue equipment. The lesser-great news is that we do like the Do-Win shoe, even though it may not be one of the first pairs that we reach for when training.
Here is an honest and fair review of the Rogue Do-Win. While there are plenty of awesome benefits, there are some gapping flaws that are hard to avoid and we'll do our best to address those here.
---
Rogue Do-Win Product Features And Overview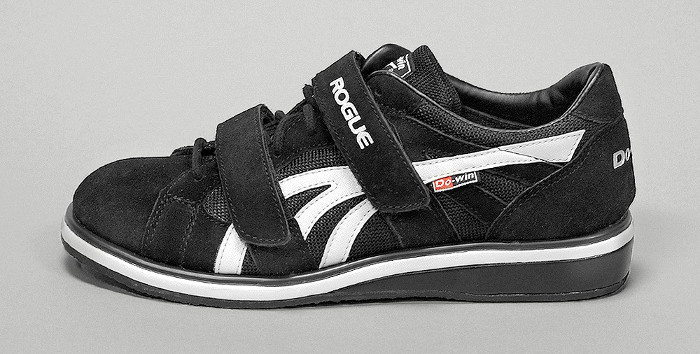 These shoes are really comfortable when you first slip them on. Despite the fact that we have larger feet that are pretty wide, the Rogue Do-Win was a snug and relaxed fit. Then once we strapped up the two velcro straps across the tongue, we were pleased to report that it was just the right amount of grip. Far too often we've dealt with shoes that are either too snug or not snug enough, but the Rogue Do-Win finds itself amongst just a handful of other options that are perfectly in the middle.
The other major benefit that I noticed about these shoes after wearing them for a while is just how durable they are. That shouldn't come as a surprise, when you consider how reliable Rogue's other fitness products are. All things equal, the Do-Win shoe is what you'd expect from Rogue, only in the form of a shoe and not as a weight or barbell.
Things you should  Consider about the Do-Win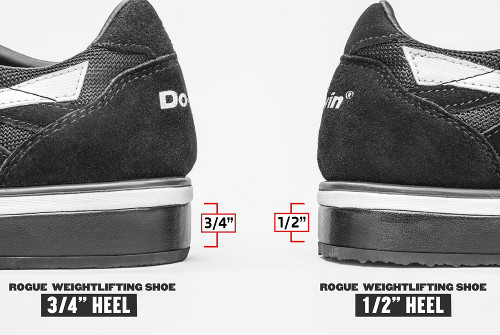 Now that you know what we love, there are a few things that we have to say could be improved upon by Rogue in the future. The first is the biggest, which is a very weird feeling that the heel is lower than the toe section in the shoe. Having a low heel-to-toe profile is a must, and something that we applaud many other shoes for. However, it almost seemed as if Rogue offered a negative heel-to-toe ratio, which is quite uncomfortable as you are trying to stabilize yourself while training. If you plan to use these shoes for additional training purposes, such as running, you may notice that the awkward feel of the heel is too difficult to overcompensate for.
The other weakness of the Do-Win from Rogue is the appearance. We understand that Rogue is a brand that highlights how rugged and tough it is. So when you look at this shoe, it certainly does look rough and rugged. However, that doesn't translate very well to aesthetic appeal in this case. In fact, it's honestly not a very appealing shoe to wear at all. Unless you absolutely have no care or concern as to your shoe's appearance, then you likely will want to look for other options that are more appealing than wha the Do-Win offers.
With these few negatives stated, keep in mind that Rogue isn't a shoe company. They are a fitness equipment company that does a rocking job at providing some of the best products in the industry. Therefore, it may not be fair to expect a ton of colors from a company that doesn't have a large manufacturing line like Nike or Reebok. That being said, this is a good first effort and we look forward to future changes that Rogue makes to the Do-Win model.
Pros of the Do-Win
The front and sides of the toe feel very comfortable, especially after being strapped in with the double velcro across the tongue.
A reliable shoe from a reliable company.
A great first attempt at a new line of shoes.
Different heel height options
Cons of the Do-Win
An awkward feeling heel-to-toe ratio that almost feels as if you are consistently leaning backwards. This needs to be changed in future models.
Only one color option – that of which isn't the most appealing to begin with.
Our Rating on this Shoe:
Reliablity

Stability

Comfortable

Color And Style Options
Who Is This Rogue Shoe Best For and Price?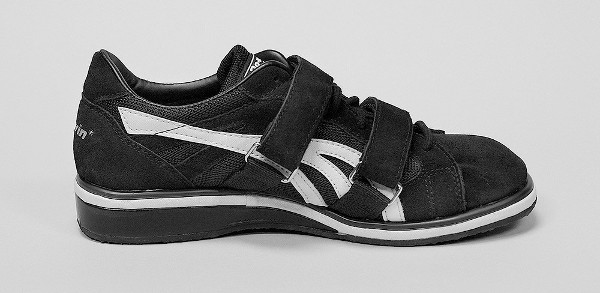 Hard core athletes. Simply put, this isn't going to be a shoe that just anyone decides to purchase. You are going to pay $90-$100, and most people will likely go with a more well known brand for anything over 100 dollars.
However, if you are more of a hardcore athlete that is looking for another pair of shoes to add to the list, the Do-Win might be worth considering. However, be sure to go in and try them on first, as you will immediately notice the heel-to-toe ratio that might change your opinion on wanting to wear them.
Our Verdict on the Rogue lifting Shoes
When you love Rogue equipment like we do, it's hard to say anything bad about anything they do. However, the truth of the matter is that there are some places that need to be addressed and improved if they plan to continue on with their shoe line.
If Rogue can improve upon the awkward negative heel-to-toe feeling, that'll be the right start in making this a true competitor amongst other powerlifting shoes. Once that's taken care of, then Rogue can consider making their shoes more appealing to the masses with better colors.
Until then, we'll file the Rogue Do-Win into the category of other shoes that are a pretty solid option, with others to consider as well. But if you still want to add some Rogue equipment to your gym, keep in mind that this is a great company that makes some of the best weights, bars, and accessories in the world.
[social]